University Center Residential Owners Association eMail Bulletin
7/2/2020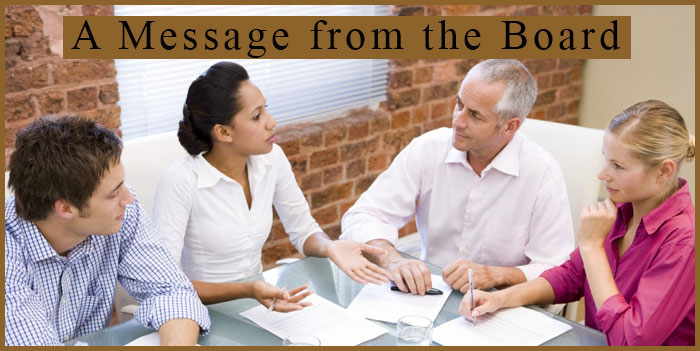 A Message from the Board
Regarding the 2020 pool season
Dear Residents,
One of my favorite things to do on 4th of July
weekend is to spend time at the pool. As
we approach this weekend, it is with some disappointment that I share our
latest update regarding the UCROA pool.
As communicated last month, the HOA Board of Directors has
been in regular contact with our pool contractor, TWC management and our
attorney regarding the potential opening of the pool.
The governor has approved moving the state into "Phase 3" on
July 1st
Phase 3 allows for recreational swimming at 75% capacity,
provided that 10 feet of distance can be maintained between all persons not in
the same household; pool furniture is permitted, spaced 10' apart, but it must
be disinfected after each use.
As much as we would like to open the pool for recreational
swimming, the board has decided that the UCROA pool will remain closed for the
2020 season.
The board considered many factors in making our decision,
including the following:
1.
Availability of lifeguards - our pool
contractor, and many other local contractors, hire lifeguards from overseas;
with the travel bans in place due to COVID-19 there simply are not enough
lifeguards available. Without
lifeguards, we obviously cannot open the pool.
Hiring local lifeguards will mean increased costs & likely a
shortened season, as many of these will be college students who return to
school in early/mid-August.
2.
Public safety protocols – given the COVID-19
health crisis, the pool would require a temperature check prior to entrance,
the enforcement of a mask policy, additional cleaning measures such as
sanitizing the furniture between uses, more frequent cleaning of the restrooms,
the addition of hand-sanitizer stations, etc.…
These measures would require additional staff, increased costs and
introduce risk factors that extend beyond the essential role traditionally
filled by lifeguards.
3.
Space concerns – while 75% capacity is not a
large concern, swimmers spaced 10 feet apart and pool furniture spaced 10'
apart will significantly limit the number of people who can use the pool at any
given time. We considered a reservation
system, as well as allowing "shifts" for residents, but neither seems feasible.

4.
Cost – as outlined above, we anticipate cost
increases to add personnel & sanitization products. While
we are not opposed to absorbing costs to ensure this amenity is available to
our residents, initial conversations with our contractor point to significant
cost impacts that just do not make sense for such a shortened season and
limited pool occupancy.
In summing up, we are disappointed that the pool will not be
available to our residents this season.
That said, the public safety and fiduciary concerns of our community are
at the forefront of the decision. It is
worth noting that we looked into how other communities are handling this as
well and we understand that many homeowners associations and condominiums have
reached the same conclusion and have decided to close their pool for the season
due to liability, financial, and compliance concerns.
Some have inquired about a refund for HOA dues in the face
of closing the pool; we are under contract to maintain the pool, minus the
lifeguard expense. Draining the pool is
not an option, that would lead to damage of the pool structure and equipment,
so we do need to continue to provide a basic level of maintenance throughout
the summer months. Our contractor will
provide twice weekly maintenance as a best practice for the upkeep of the asset
and to prevent the spread of waterborne insects and disease. Without the lifeguard portion of our
contract, we will have a budget item surplus.
The board has agreed to address this surplus in our budget planning for
FY21, with the intent to either sustain the current dues amount or minimize any
potential increase for next year. In
terms of actual dollars, we estimate the pool contract savings will be roughly
$30 per lot and we will consider a credit as part of our budget
discussions.
While we are disappointed to share this news regarding the
pool, we are excited for next season.
Some of you may have noticed the work currently underway for the pool
deck expansion project – this will be completed over the summer along with a
"revamping" of the tennis court. We
anticipate opening the tennis court up, as this activity is feasible under the
Governor's re-opening plan.
On behalf of the Board, I would like to thank our membership
for your understanding of this decision.
Sincerely,
Tom Glancey
UCROA President

This is a Publication of UCROA